Hi guys, so I'm brand new to investing, and looking to put £20k into passive/long(ish)-term investment opportunities. I've been doing some research for a little while now and have put together a portfolio that I thought I'd share to gain some insight/thoughts from more experienced investors.
I've created a pie chart for a visual representation of what I'm thinking of investing in.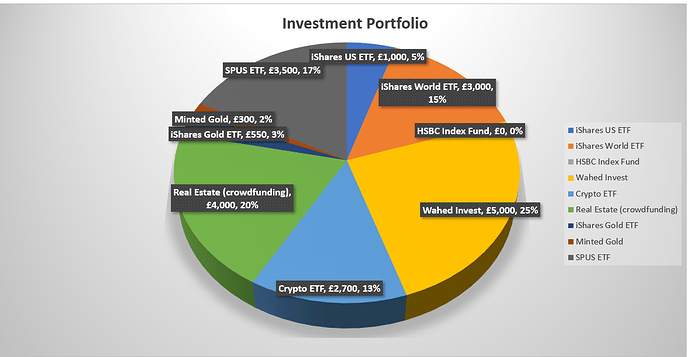 As you can see, I'm careful not to put all my eggs in one basket hence the several types of investments.
One thing I would add is I was going to invest £5k in HSBC Islamic Index Fund with AJ Bell, but have instead decided to put all of that toward Wahed Invest as I've heard that's the ETF they mostly invest in anyway (for aggressive portfolios), so it would save me paying fees twice to different platforms.
Please let me know your thoughts.